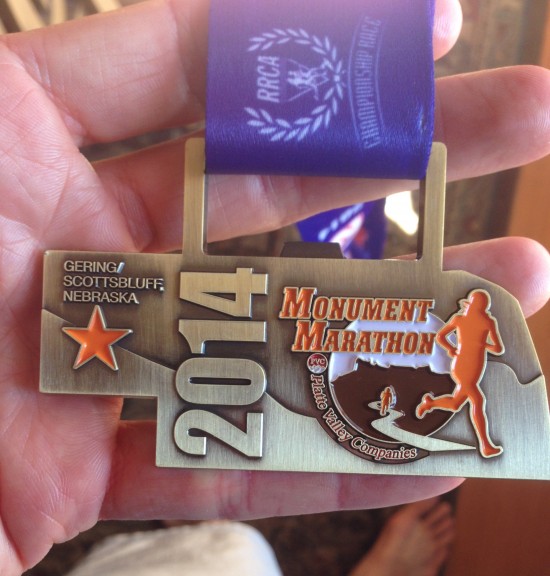 80+ degrees. Full sun. No shade. Partial dirt road. In other words, a battle. At least that was how I expected this past weekend's marathon to go when I looked at the forecast and the route a few days prior to the Monument Marathon.
When all was said and done, I had a bad sunburn, tight hamstrings, and a personal marathon record.
How the Monument Marathon Went
In the next week or so, I'll be posting a lot more details into how I trained differently for this marathon versus my first handful of marathons and how you can implement some of my tactics.
For now, I want to share the story of how the actual marathon race went.
Before diving into the mile-by-mile breakdown, I have to thank my wife, mother-in-law and 18 month old son for being a great race crew along the route. They provided everything I needed and were on top of things throughout. I wouldn't have PR'ed without them.
Next, I'd like to thank the race organizers of the Monument Marathon and all of the volunteers. The marathon was well organized and a lot of fun. I appreciate you having me as part of your race. (P.S. If the race organizers are reading this, keep reading for some Pro's/Con's for future runs)
Now, let's dive into how the marathon went.
Miles 1-5 | Slow Down Cowboy
I went out of the shoot way, way too fast.
In the first 5 miles, I'd estimate we dropped about 400-500 feet in elevation. That's huge! I knew this going in, but sometimes, gravity takes over.
I ran a 6:53 mile 1 and 6:59 mile 2. Considering I was planning on running 8:00/miles throughout, I went out too fast. Honestly, I tried to hold myself back, but that decline just pulled me to faster pace miles all the way through 5.
Also, the snake on the road at a mile and a half probably pushed me on the second mile.
Miles 6-10 | Feeling Good
As the course flattened a bit, I felt better about what I was running. Miles 6-10 were in the 7:40 range, which was completely okay at this point.
Running away from Scotts Bluff Monument wasn't as bad as I thought as it being behind me didn't really come into my thought.
Not too much else to say about this part of the race. Just pumping through mileage here.
Miles 11-14 | Come On Quads
You know that huge decline at the beginning. Well, the course was about to take some of that back.
Miles 11 and 12 weren't horrible, but my legs began to feel the incline. Then mile 13 came.
Mile 13 saw us pass where we would end up back at near the finish. Usually, seeing where you will finish early in a race is the killer. However, I had something far more daunting looking straight back at me – a mile with a 100-150 ft climb.
A 100-150 foot climb isn't bad unless it's in the middle of a marathon.
Mile 14 was a tough climb. It ended up being an 8:26 pace mile, which that early in a marathon isn't good. My legs were not having it.
One of the saddest parts was looking ahead and seeing what I thought to be the peak only to continue the climb and see the true peak of the climb further up the road.
Miles 15-18 | Running Downhill…Temperatures Going Uphill
Once hitting the peak, there was a nice, long downhill that I took gingerly as I didn't want to throw my body into fits with confusion.
Nothing too exciting happened at this point. I refueled quite a bit as I knew the long trudge on the dirt road was coming where few aid would be.
About now was when it started to just feel hot. Since I lived in Phoenix, Arizona for 6 years, I know there is a big difference between shade heat and sun heat. Shade heat is "bearable". Sun heat is like being an egg on a pan. No where to go, no where to hide, no where to escape the heat.
I chugged as much Nuun as I could get down, but honestly it was more the sun roasting me that got to me.
I averaged about 8:22 miles here, which was definitely the point I started going downhill.
Miles 19-22 | All Alone…and Hot
The marathon threw her left jab with the loneliness that came with hitting the dirt road and followed with a right uppercut with the heat.
I probably looked like a lost extra from the filming of The Walking Dead.
I ran until I hit these two trees at about mile into the dirt road. SHADE! The trees provided some brief relief from the sun. Though, even walking, they didn't last long. Back in the sun.
I hit up two water stations along this 4 mile stretch of walking and slow running (jogging). The first aid station seemed to have had their water cups filled for a while as it was warm. Since there weren't but 125 or so marathoners, there was a big gap between runners where water just sat there. So, when I went to drink it, a small tear wanted to come out cause it wasn't cold, but I was too dehydrated to waste any on a small tear (Again, volunteers you were awesome!!! – – I just have a suggestion later in this post).
I made my way a few miles to the 2nd aid station along the dirt road. I was much smarter this time around. I yelled ahead for ice so by the time I arrived, they had some ready. They helped reload my water bottle with ice and then filled with water. LIFE SAVERS! This got me going again for a bit. A kick in my step however small it may have been.
This area was tough, but I was mentally better than any other marathon I'd ever run previously. My body was just succumbing to the heat. By now, I was at about hour 3 and it had to be 80 plus however warmer with the direct sun.
I do well in races with people around. This section was the furthest from that. Not to the organizers fault, it was just a lonely section that tends to be a killer for me personally.
My pace had dramatically dropped through this area. Walking/jogging at about 10:10 miles through miles 19-22.
Miles 23-26.2 | Why Sun? Why?!?!?!
My wife met me right at around mile 23 (I think). It was right when we came out onto the roads again. Thankfully, she had some licorice and an ice cold wet towel to drape over me. I was beat.
The blisters on two toes were rubbing a bit and I was trying to rehydrate without chugging. Worst of all was that damn sun though. As we ran through some neighborhoods, I remember yelling to the sky, "COME ON SUN – GIVE ME A BREAK!" No, not one of my proudest running moments.
Around mile 24.5, I could see the glimmer of the sun off the cars at the parking lot where the finish was. "Damn, that's a long way to go still. Those windshields look like a solar plant. If it was a solar plant, it'd be producing a hell of a lot of energy today." Yeah, I was tired, hallucinating, frustrated and ready to be done.
I trudged along and thankfully, my wife had a whole freaking gallon of ice cold water that I chugged and drenched myself with. I saw another marathoner coming up behind me and handed it to him cause I figured he'd feel the same as I. Unfortunately, that guy beat me by 13 seconds so maybe I shouldn't have given him the water. Yeah, you Dale Walker. You owe me. (Just playing – – great push at the end Dale).
The last mile was nice to be met with shade. I definitely should have pushed it harder through here and been under 3:50 overall, but it's hard to rationalize running when you are so far off your goal pace already and exhausted.
I shuffled down and up the last slight down and uphill about a quarter mile from the finish.
Finally, the finish line was upon me with the marathon having one more kick in my tail to go – an uphill finish line. Yes, it was only about 150 feet with a very slight incline, but I was done with the tricks the marathon was playing with me.
The last 3-4 miles were at an astonishingly slow, give or take, 11 minute mile pace.
One way or another, I crossed that finish line in 3:50:29, a personal marathon record.
Final Monument Marathon Thoughts
I trained hard for this one. Living in Denver, I trained at a higher altitude and a much faster pace. Some days, the marathon just wins.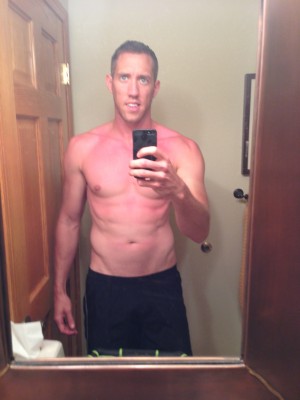 My longest training run was 17.5 miles at 7:58 pace and I felt good after that. In a later post, I'll dive into my training, but I definitely was prepared for the marathon distance.
Every course has it's killers. For me, on this marathon day, the uphill climb at 13-14, the dirt section from 19-22 and more than anything else, the heat absolutely drained me. It also burnt the hell out of me too (See picture to the right for evidence).
At the end of the day, I still set a personal record.
Could I have done better? Maybe. Could I continue to make excuses? Absolutely. However, the best thing about marathon running is that you provide the results based on your efforts. No ref to blame anything on. No teammates to point the finger at. It's all on you. Being a veteran of the marathon, I know that and accept what my body and mind was able to do at this marathon.
The folks of the Monument Marathon put on a great event and I applaud them. Thank you again for the chance to run your race. I may enjoy my urban runs more, but this was a great country race for the city boy.
Now, I begin to prepare for the Denver Rock 'n' Roll Marathon in less than 3 weeks followed up by the California International Marathon in early December. I love fall racing season and this was a great way to kick it off.
————-
Final Review of The 2014 Monument Marathon
Course Rating: 8/10 – The knocks are for the hill at 14 and the lack of fan/supporter access to the course when I like it the most around the 20 mile mark. I enjoy urban runs so this is more based on personal preference.
Support Along the Course: 9/10 - Once again, the volunteers were amazing. They were doing their best for not being typical race volunteers who might do it more in a big city. I gave the 1 point knock because it was something that sucked big time for me. The warm fluids. It was an unseasonably hot day so I understand the following error. If it's hot or sunny, keep the fluids in the shade. Have ice in an ice chest nearby and when a runner gets close, grab a cup from the shade and throw a few ice cubes in. Not trying to be mean in saying this. More constructive criticism for the future. I loved the second crew on the dirt road simply cause they had ice ready for me.
Organization of Race Weekend: 9/10 – Nothing to complain about here. I wasn't expecting the expo to be like the Rock 'N' Roll Series for this size of a race. Loved having the bag be ready and quick running chip pick up. Emails with info were great prior to arrival.
Pro's:
Pizza at the finish line – – – GOOD CALL!
Having the guy on the bike checking on runners along the dirt road. Being a hot day, I didn't need this much, but if there were newbie marathoners this guy might have saved a life checking to make sure they were okay. In my opinion, a necessary for that dirt road stretch.
Great medal and tshirt.
The little pools with ice water at some of the aid stations were great to dip my running hat in.
The informative emails pre-race day were great.
Con's:
As noted above, have the drinks kept in the cold/shade on the back stretch until runner approaches and have extra ice if runner needs it at last 8 miles of aid stations. This was biggest downside easily with the heat.
No plates at finish food area. Being mentally fatigued, balancing banana, 2 drinks, chips, brownie and pizza was a bit tough without a little plate or box to help a tired runner.
More canopies or a bunch of those huge blue tarps pitched at an angle for shade. No shade at the finish line when it was in the 80's just continued the battle with the heat once the race was over. No way I was going to sit around in the sun for the awards ceremony.
Either Runkeeper GPS on iPhone was off on the distance by a quarter mile or the course was. I'm guessing my iPhone GPS was off a bit, but I'd rather bring it up in case others do too.